Maristella Bono


More true than truth, painter's imitations




Maristella Bono was born in Italy in February, 1974 in a little town called Albenga, on the Italian Riviera, where she still lives and works in her laboratory in G. Galilei street.

She graduated from the Liceo Artistico - High School of Arts - A. Martini in Savona.
Among her teachers, she can count Prof. Parini, famous sculptor and eclectic painter, and Prof. Zegna, multivalent artist and distinguished jazz pianist.
She has also studied at the Universal School in Rimini where she graduated in advertising graphics.
Over there she had the opportunity of attending Prof. Domenichini's and Prof. Civardi's lessons; two teachers of great worth.

Despite the young age, after various collective exhibitions, Maristella Bono exhibits her first personnel to "Villa Cambiaso" in Savona, famous historical abode in which have exposed great weight artists like Sabatelli, Caldanzano, Borzini, Bettocchi and Vintera; and other famous painters and school masters.
Other personal exhibitions took place in no less famous residences.

Maristella Bono has been devoting him for years to the realization of copies of famous paintings.
Her undoubted technical skills - acquired through experience and many years of dedicated study - are never separated by her deep love for the last two centuries painting.

All the works of the artist are certified as "painter's imitations"; they respect the techniques of execution and the dimensions of the original painting.

Besides the paintings that you can find in this site, the artist also performs on commission works to best suit Your artistic demands.
The artist is able to perform paintings of different authors, from the Renaissance time to the contemporary art.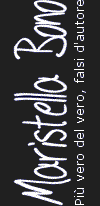 Web design & hosting
rme informatica
- Copyright © 2001-2009 Maristella Bono